Scroll over the product title to view details on Motor Carrier Products and service
U.S. DOT Number
$69 – Completed and filed form MCS-150. A US DOT number is NOT authority to operate. It is actually your Motor Carrier Identification Report (MCS-150). You are required to make a biennial update or when changes occur to your business information.
U.S. DOT Number and Hazardous Material Permit Application
$69 – Completed and filed form MCS-150B. Remember – additional regulatory requirements apply if you are going to haul hazardous material.
Biennial MCS-150 Update
$39 – Motor carriers are required to make updates to their Motor Carrier Identification Report (MCS- 150) every two years. With FMCSA's new motor carrier Safety Measurement System it is absolutely critical for you to make certain your fleet size and annual mileage are accurately listed. Members of the WSTA receive this service for no administrative fee.
U.S. Operating Authority
$409 each – Motor Property Carrier and Broker Authority (OP-1) or Freight Forwarder (OP-1FF). Your authority will NOT be activated until the minimum amount of insurance ($750,000) has been filed with FMCSA. $750,000 is the minimum level required if you are hauling general commodities (non-hazardous), however, many brokers and shippers may require higher coverage.
NOTE: While you may consider getting broker authority, it currently requires a $10,000 bond on file with FMCSA and legislation passed by congress will increase the broker bond requirement to $75,000. The cost to a small-business broker in securing a $75,000 bond is currently the subject of much controversy and we strongly advise you investigate what a bond will cost before spending an additional $300 getting broker authority.
Intrastate Operating Authority
$59 – Want to operate for-hire commercial within a state? American Alliance Authority & Compliance will complete your intrastate authority application for only $59! (California MCP excluded). For motor carriers wishing to get California operating authority we have an exclusive package of services designed specifically for those motor carriers.
BOC-3
$69 – Designation of Process Agent.
Unified Carrier Registration (UCR)
$109 for 0-2 trucks – The UCR Plan and Agreement was created by Congress to replace the Single State Registration System (SSRS). UCR fees are determined annually and based on fleet size. Members of the WSTA receive this service at no administrative fee – the charge is for the actual related UCR registration fee.
NOTE: Current annual UCR fees as set by the UCR Board are: 0-2 vehicles $76, 3-5 vehicles $227, 6-20 vehicles $452, 21-100 vehicles $1,576, 101-1000 vehicles $7,511, and 1001 or more vehicles $73,346.


International Fuel Tax Agreement (IFTA)
$49 plus state fees – International Fuel Tax Agreement (IFTA). IFTA is a tax collection agreement by and among the 48 contiguous States and 10 Canadian Provinces bordering the U.S. Members of the WSTA who are clients of our Fuel Tax Reporting Service have annual renewals processed at no administrative fee.
International Registration Plan (IRP)
$49 plus state fees – IRP is a registration reciprocity agreement among states of the United States, the District of Columbia and provinces of Canada providing for payment of apportionable fees on the basis of total distance operated in all jurisdictions. Members of the WSTA who are clients of our Fuel Tax Reporting Service receive annual renewal assistance for no administrative fee.
DOT Drug & Alcohol testing
As little as $56 annually – Our exclusive provider of nationwide DOT mandatory drug and alcohol testing is American Alliance Drug Testing. You can choose from all inclusive annual pricing of $119 ($85 for WSTA members) with no out-of-pocket charges for collection or lab fees if selected for a random or $56 annual enrollment fee and you will be billed collection/lab fees if selected. New members of the WSTA receive first year enrollment complimentary – with no additional fees. Pre-employment drug screen excluded.
Fuel Tax Reporting
$99 quarterly, per truck. Fleets with 5 or more trucks – $89 per truck, per quarter. American Alliance Authority & Compliance has partnered with North Carolina based Nationwide Truckers Service to offer competent and timely fuel tax reporting with an IFTA audit guarantee!
Permits (Kentucky, New Mexico, New York)
$59 each state for first 2 trucks – all fees included. – If you plan to operate in the following states, additional permitting beyond IFTA and IRP registration is required.


Kentucky requires a KYU number (tax license) issued for the Kentucky Weight Distance Tax for any truck registered over 59,999 pounds traveling in Kentucky.


New Mexico requires intra- and interstate commercial vehicles with a gross vehicle weight in excess of 26,000 pounds to register (each year) for a Weight Distance Tax Permit for each vehicle.


New York requires motor carriers operating any truck or tractor with a gross weight over 18,000 pounds to obtain a Highway Use Tax certificate of registration and display a decal on each vehicle.


Oregon requires a Weight Receipt and Tax Identifier Credential. To establish an Oregon weight-mile tax account will require posting a $2,000 bond.


Federal Employer Identification Number (EIN)
$39 – (EIN) issued by the Internal Revenue Service. Because your authority application will be a public record available on websites, the Federal Motor Carrier Safety Administration strongly encourages sole-proprietor owner-operators to obtain an EIN from the Internal Revenue Service instead of using your Social Security Number (SSN). If you don't already have an EIN, we will get you one for you prior to beginning the process.
Compliance, Safety, Accountability (CSA) Monitoring
$99 annual fee – Whether you are an established motor carrier or classified as a New Entrant Motor Carrier under federal regulations, it is important to check your safety profile as maintained by the Federal Motor Carrier Safety Administration. The new safety measurement system – Compliance, Safety, Accountability (CSA) is used to target motor carriers for various levels of interventions based on crash and inspection data. We will monitor your carrier profile on a quarterly basis and send you the results along with information on how to improve your profile if necessary. Members of the WSTA receive this service at no administrative fee.
CARB Compliance Information & Registration
$50 per truck – If you operate in California your equipment needs to comply with many regulations mandated by the California Air Resources Board. Don't depend on "Road Rumors" concerning how to comply – non-compliance can cost thousands of dollars in fines. We make sure you have the necessary information to operate legally in California and will register up to 3 trucks in CARB's Truck Regulations Upload and Compliance Reporting System (TRUCRS) and get your Compliance Certificates. Brokers and shippers are increasingly requiring the CARB Compliance Certificate in order to haul for them. Members of the WSTA receive this service for a discounted $25 administrative fee.
For fleets with more than 3 trucks we have partnered with CleanFleets.Net to provide CARB compliance solutions.


Standard Carrier Alpha Code (SCAC) Number
$99 – Not everyone needs to get a SCAC, but if you plan on engaging in cross-border trucking, hauling some government shipments, or even hauling for certain shippers, you will need to have a SCAC. After consulting with you about your operation we can advise you whether you'll need a SCAC number. We can complete the application and file it for you. Our $99 fee includes the $64 filing fee which is an annual fee. Members of the WSTA receive this service at no administrative fee.
IRS HVUT
$49 per truck – If you are registering a truck with a gross weight of greater than 54,999 pound you will need a stamped receipt from the IRS as proof of payment of the Heavy Highway Vehicle Use Tax (form 2290). States cannot issue truck registration without proof of this payment. We can electronically file your 2290 and usually same day turn-around on your receipt. Members of the WSTA receive this service at no administrative fee.
Management Edition of the Federal Motor Carrier Safety Regulations
$19 plus shipping – The large bound version of the FMCSR's contains sections and DOT Interpretations of the regulations not found in smaller versions. If you are a motor carrier you should have this copy as part of your back-office. New Members of the WSTA receive a complimentary copy with association membership.
California Vehicle Code Book
$15 – The California Vehicle Code Handbook combines an exceptional reference book with true convenience.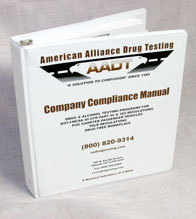 Company Compliance Manual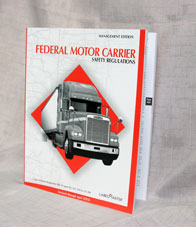 FMCSA Regulations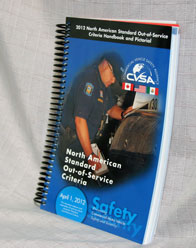 CVSA OOS Criteria Booklet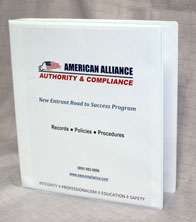 Records, Policy and Procedure manual for Motor Carrier